Easy to use and exhibiting good wear resistance they can be poured, brushed on or sprayed onto prepared surfaces and cure with negligible shrinkage. They are economical, reproduce exceptional detail and are best suited for production casting of concrete, gypsum and wax.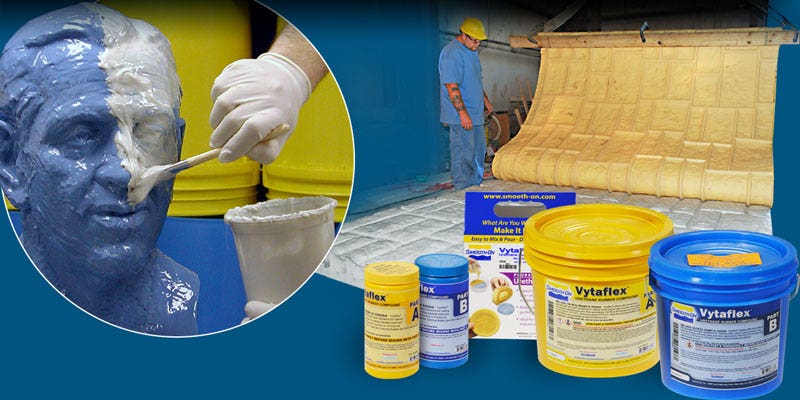 VytaFlexTM Series
Superior physical and performance properties for casting concrete.
ReoFlexTM Series
Superior physical and performance properties for production casting of wax, plasters, and resins.
PMCTM Series
Easy to use and exhibit excellent wear resistance for industrial and art-related applications.
Brush-OnTM Series
Brushable Polyurethane Rubber famous for their abrasion resistance and high tear strength.
KX Flex™ Series
Fast setting two-component urethane that cure quickly to semi-rigid, highly impact resistant elastomer.
Simpact™ Series
Low odor, fast-setting urethane elastomers which offers very high tear strength, impact resistance and wear resistance.
EconTM Series
Economical and fast curing, features a convenient 1A:1B by volume mix ratio and a low viscosity.
UreCoatTM
Flexible, tough and impact resistant coating.
Clear Flex™ Series
Water white clear liquid rubber designed for applications that require absolute clarity and resistance to sunlight.
EZ~MixTM
Apply to a vertical surface with a brush to create a flexible, durable rubber mold.
EZ~SprayTM 45
Sprayable polyurethane rubber for spraying through the EZ~Spray™ Junior Cartridge System.
CompatTM 45
Will not inhibit the cure of most Smooth-On platinum or tin cure silicone rubbers.
Ultimate Vine Making KitTM
Everything needed to make your own hyper-realistic vine that is durable, UV resistant and long-lasting for indoor or outdoor displays and exhibits.
Urethane Rubber Accessories
Additives compatible with Smooth-On Urethane Rubber Compounds for altering and enhancing their characteristics and performance.